Iberian ham: The taste of Spain
Spain's cuisine is recognized around the world for its high-quality ingredients and the endless diversity of dishes that can be prepared with them. Each region offers its own local specialties, and some of them have become iconic of Spain – for example, paella, gazpacho and churros with chocolate. But one delicacy stands out from the rest – Iberian ham. With its intense flavour, pleasing texture, and enticing aroma, there is nothing else like Iberian ham, and the best place to try it is on Spanish soil.
Producing the finest
Iberian ham can be found on Spanish tables at any meal – breakfast, lunch, dinner, and of course for tapas. But this doesn't mean that the ham is easy to produce. In fact, the excellent quality of Iberian ham is the result of a strict, painstaking production process that begins in the fields where the pigs are raised. For the ultimate Iberian ham, the pigs must be raised in fresh air and liberty, feeding on 'bellota', or acorns. The habitat for this is 'la Dehesa', grassy pastures speckled with oak trees. The preferred pastime of Iberian pigs is rooting around these pastures for acorns as well as herbs and grasses.
This healthy diet plus plenty of exercise makes for perfectly marbled ham, which also happens to be rich in natural antioxidants – key for the extended curing of the ham. Along with these antioxidants, Iberian ham has also been scientifically shown to reduce levels of bad cholesterol, making this delicacy a guilt-free indulgence. And of course, a plate of fine Iberian ham is best paired with a glass of Spanish wine.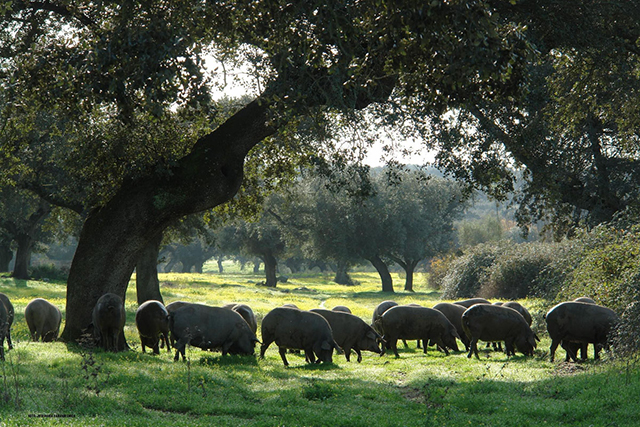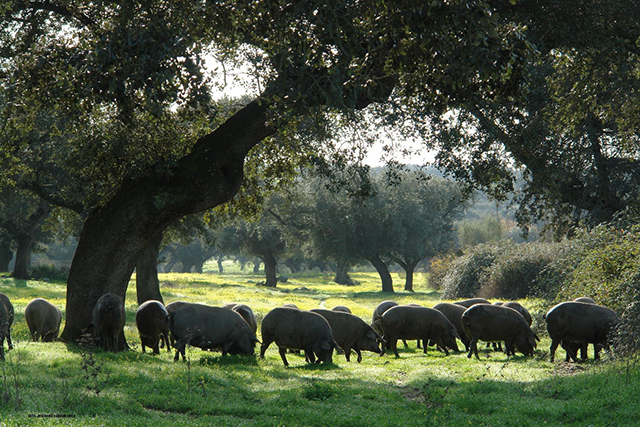 Where to try Iberian ham
Iberian ham can be found all over Spain, but there are four regions that are known for producing the highest quality and have actually earned designations of origin. These are La Dehesa of Extremadura, Guijuelo in Salamanca and Extremadura, Jabugo of Huelva, and Los Pedroches, which is the newest designation from Cordoba. These areas are great options to visit the producers and see where the pigs roam, how the hams are cured, and – importantly – how the ham is cut and served. What many people don't know, is that the special technique of cutting the ham is essential to savor its rich flavor to the full, to appreciate its color, and to enjoy its texture on the mouth.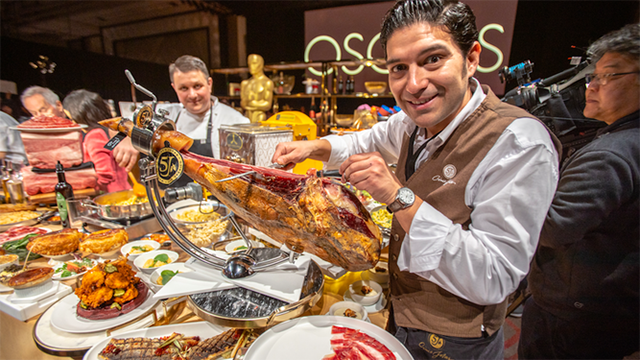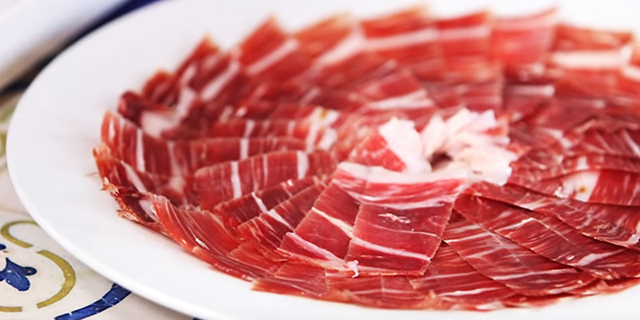 Our Iberian ham tastings
Wherever your group is travelling, we can organize a special tasting of Iberian ham. All of these tastings are given by an Iberian ham expert, who can share all there is to know about this Spanish delicacy and can even teach your group the special technique for cutting perfect slices. Get in touch with us today to arrange your group's personal tasting, anywhere in Spain!