Renoir in Madrid's Golden Triangle
Madrid is one of the great art capitals of the world, and few streets can match the artistic abundance of the Paseo del Prado. Three of the world's best museums, known locally as the Prado, Thyssen and Reina Sofía, form the city's Golden Triangle of Art, and their collections offer a breathtaking richness of Spanish masters from Goya to Picasso. This autumn, the Thyssen will offer visitors a special close-up perspective on one of the world's most admired artists, Pierre-Auguste Renoir.
From the factory to fame
Born in Limoges, France in 1841, Pierre-Auguste Renoir was the child of a working class family. As a boy, he worked in a porcelain factory where his talent led to him being selected to paint designs on fine china. During those early years of his life, he often visited the Louvre to study the French master painters, until he began formally studying under Charles Gleyre in Paris.
Later he met Alfred Sisley, Frédéric Bazille, and Claude Monet, who became great friends and inspirations. Unappreciated during the 1860s, he often did not have enough money to buy paint, but recognition for his artistic gift and dedication came. The artist earned great acclaim when six of his paintings were hung in the first Impressionist exhibition in Paris in 1874. A prolific artist, Renoir went on to create several thousand paintings throughout his lifetime.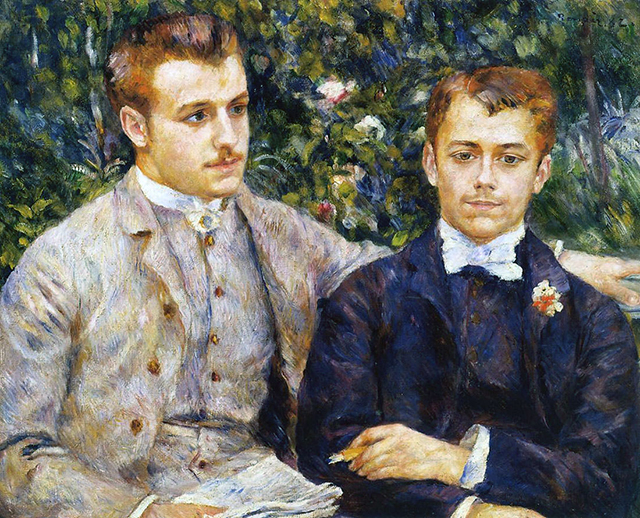 Unmistakable style
Renoir's paintings are known for their vibrant light and saturated color, most often focusing on people in ordinary yet intimate moments. Characteristic to his Impressionist style, Renoir used freely brushed touches of color to fuse his figures softly with one another and their surroundings.
With a range of influences including Gustave Courbet, Edgar Degas, and François Boucher, changes can be observed in his artistic style over time, but all of his pieces emanate the warm sensuality that Renoir is known for. This irreplicable quality has made his paintings some of the most recognizable and admired works in the history of art. Today his paintings are sold for tens of millions of dollars, such as Bal au moulin de la Galette, Montmartre, which sold for $78.1 million in 1990.
An intimate view of the artist
This fall, the Thyssen–Bornemisza Museum will gather a collection of more than 70 works of the artist in an exhibition titled Renoir y la intimidad (Renoir and intimacy). Taking place from the 18th of October to the 22nd of January, groups visiting Madrid will want to take advantage of this rare opportunity for an in-depth perspective on the master artist and his work. Visit our website to see our various options for tour groups in Madrid, or ask us for more information!