A Spanish autumn treat: Dulce de membrillo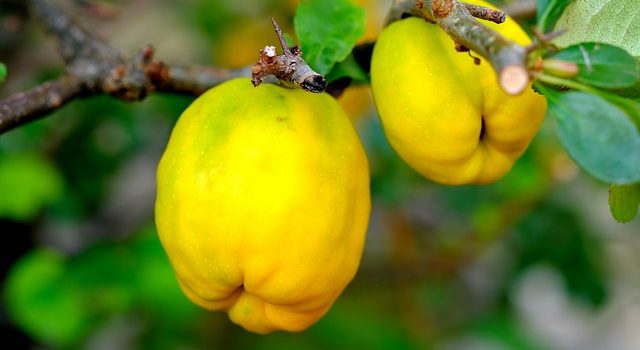 From chestnuts to churros con chocolate, Spain has plenty of treats for the chillier months of the year, and dulce de membrillo (quince jelly) stands out among them. Membrillo is Spanish for quince, which is a bright yellow fruit similar in appearance to a pear. However, don't bite into a quince – this fruit is hard, dry and bitter until slow cooking brings out its natural sugars. A Spanish comfort food, especially good for fall!
Preparing dulce de membrillo
Traditionally in Spain, families would gather fallen quince from the orchards in autumn and boil them overnight. In the morning, the liquefied fruit would be poured into pans where it would set into a firm, reddish paste that is high in vitamin C and – most importantly – delicious!
Dulce de membrillo today is prepared in much the same way as centuries ago – the fruit is first cooked in water, and the strained pulp is then cooked with sugar or honey. It turns red after a long cooking time, and becomes dense enough to hold its shape. The taste is unique – both sweet and slightly astringent – and extremely addictive.
How to enjoy it
The finished product is sold in small blocks. Most commonly, it is cut into thin slices and spread over toasted bread, plain or with manchego cheese. In fact, in Agentina and Ecuador, this is considered the national dessert! In addition, the Spanish use dulce de membrillo for a variety of sweets and pastries.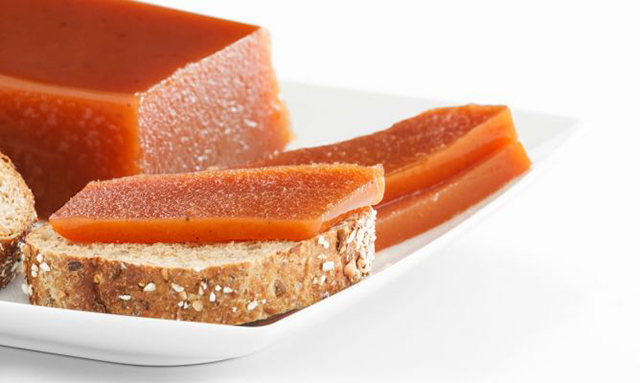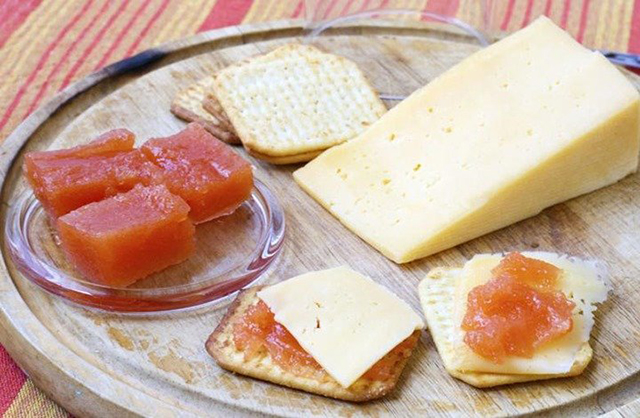 One of the best combines the quince jelly with other seasonal ingredients – figs and chestnuts – and then layers the paste between sheets of puff pastry. Another uses it to create a sauce as a topping for cheesecake. And quince jelly is not just for breakfast and dessert – it is also perfect for slicing into salads and slow cooking with pork or wild game like quail.
So, if you are touring some of the colder regions of Spain, you'll be sure to see membrillo on the menu. Encourage your group to try this traditional ingredient for a flavor unlike anything they've had before! Try the original recipe!