Asturias: Covadonga Jubilee Year 2018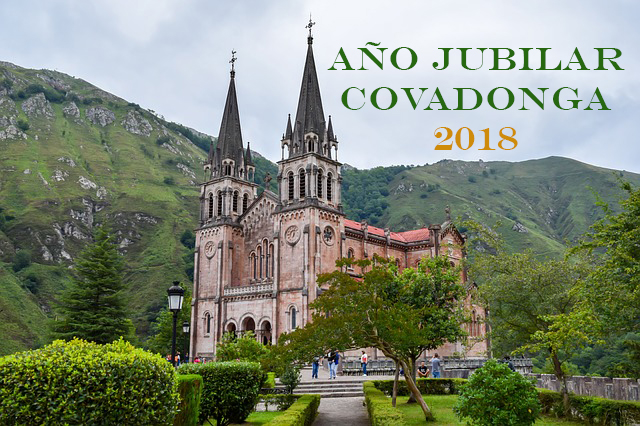 Covadonga is one of the most important sites in Asturias. Not only is it said to be the gateway to the magnificent Picos de Europa mountain range, it is also home to an important religious sanctuary dedicated to Our Lady of Covadonga. The sanctuary has long been a site of religious pilgrimage, and now in 2018, it will be granted a Jubilee Year.
The sanctuary of Our Lady of Covadonga
The sanctuary at Covadonga, set in a stunning mountain landscape, includes a basilica, a holy cave, a museum and a Collegiate church. The spires of the grand basilica can be seen for miles around, and have called pilgrims to this destination for centuries.
In 722, Covadonga was the scene of a historic battle – it was the first place where the Moorish invasion of Spain was resisted and the Moors turned back. The leader of this resistance was a man called Pelayo. Tradition has it that during this battle, Pelayo retreated to a cave where a hermit had placed a statue of the Virgin Mary. Pelayo prayed to the Virgin Mary for victory and later accredited his success to her. In honor of this, King Alfonso I of Spain commanded that a chapel and monastery be built and dedicated to 'Our Lady of Covadonga'. Pelayo's remains were later buried at this site, and are still there today.
A fire destroyed the original shrine and in 1901 the current basilica was constructed, which is built of a lovely pink stone quarried from the local mountains. Inside is the current statue of Our Lady of Covadonga, dating to the 16th century. There is also an impressive altar and various artworks. 2018 is an especially exciting time to visit the sanctuary, which has been granted a Jubilee Year by the Catholic Church. This will bring a higher number of pilgrims, as well as special events and activities.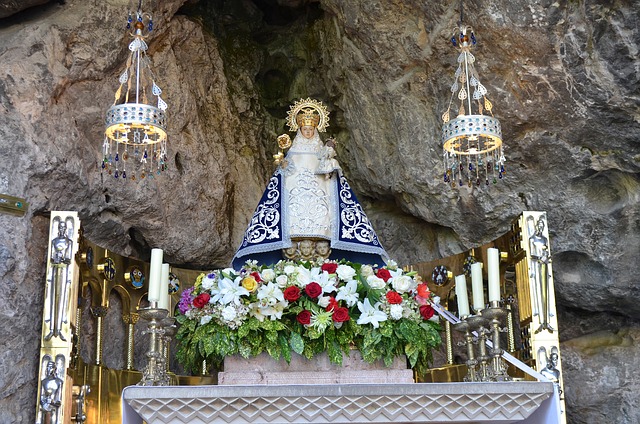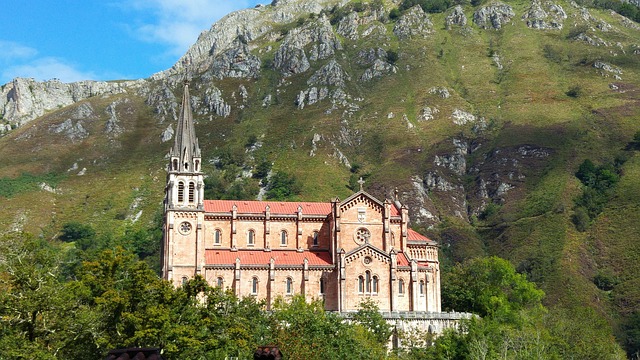 Around Covadonga
Covadonga is surrounded by some of the most beautiful scenery in Spain. Verdant hills are the gateway to the famous Picos de Europa National Park, where visitors can enjoy trekking, cycling and horseback riding through pure mountain air and indescribable views. Some of the highlights around Covadonga include the charming village of Cangas de Onis, with its ancient Roman bridge, and the nearby seaside resort of Llanes, set upon a grassy cliff and bordered by stunning secluded beaches.
Within the Picos de Europa mountains, nature lovers are spoilt for choice, but a great place to start is with the nearby Covadonga Lakes. Here, the road winds across green carpets and between pools of placid water. Simply being in the peace and calm of this majestic landscape, which is also one of the most mythical in Asturias, is a soul-touching experience that your group will treasure forever.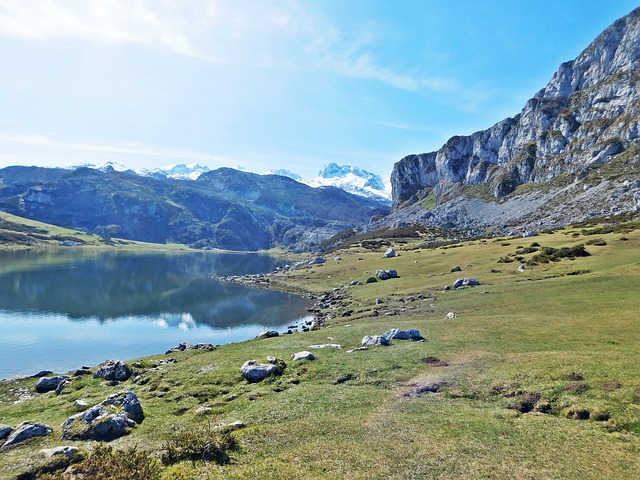 Your tour to Covadonga
Whether your group is coming to Covadonga to take part in the Jubilee Year, or they are just visiting the sanctuary as part of a Green Spain adventure, Covadonga and the surrounding area makes an unbeatable destination. We can help you to get the most out of your time in Asturias. Contact us today to start planning your tour!