San Sebastian (or Donostia in the local Basque language) is an attractive little city on a stunning piece of the Cantabrian shore, with a reputation for having the best cuisine in all of Spain. It has long been visited by sun-seekers and foodies, but 2016 marks a new era for the charming Basque city, as this year's European Capital of Culture.
This selection is made each year to shine the spotlight on one or more European cities (this year it is San Sebastian and Wroclaw, Poland), giving them a chance to show visitors all they have to offer through special events, exhibitions and activities.
Donostia locals making waves
The Basques are true individuals. Just take a look at their mysterious language, the roots of which elude scholars even today. Historically, they have always had a strong spirit of independence, and more recently they have also revealed a cosmopolitan sophistication. Although San Sebastian has around just 200,000 inhabitants, its festivals, museums, galleries, cinemas, theatre and sculpture draw and delight culture-lovers from all over the globe.
In 2016, San Sebastian vibrates with "Olas de Energia Ciudadana" (Waves of Citizen Energy), its motto for its year as European Capital of Culture. This means that locals are taking the lead in organizing over 400 cultural activities, with a program that is packed with excitement, color and fun.
There is music in the open air, independent film screenings and theatre performances, and exhibitions inside sleek venues like Musikene, the San Telmo Museum or the cube-shaped Kursaal. With so much activity, you never know what you might encounter, but rest assured there will be something for everyone.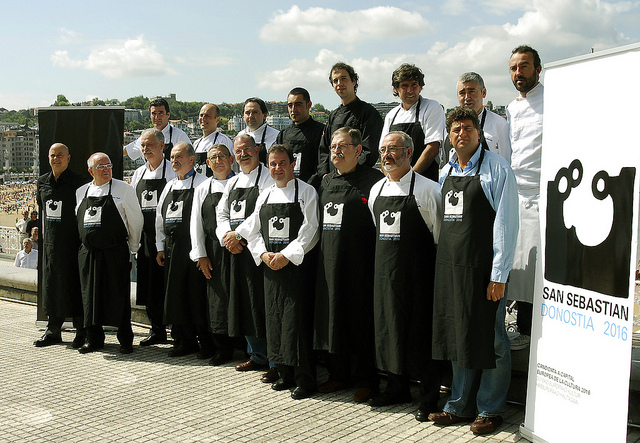 Shining stars, glittering sea, sparkling wine
The activities of 2016 will make it a special year, but San Sebastian has enough permanent attractions to make it a great destination anytime.
Take it's world famous international jazz festival Jazzaldia (July 20-25), which has been graced by the likes of James Brown, Liza Minnelli, and B.B. King. Or the Sant Telmo Museum, with exhibitions on regional history placed alongside diverse gastronomic events. Or the breathtaking landscapes that surround the city, with countless routes for hiking and biking.
And of course, the food is to die for. With an abundance of seafood on one side and the fertile Ebro river valley on the other, the diversity of top quality ingredients begs to be united in seemingly endless and irresistibly delicious combinations. Be sure to try the signature sparkling white wine, txakoli!
Mouth-watering cuisine, local authenticity, historical richness, cultural and artistic options galore, and a jaw-dropping shore… What more can one ask of a travel destination? Discover why San Sebastian has truly earned its title as European Capital of Culture 2016!

© Fotos von San Sebastian Turismo