The month of May in Cordoba shows off this elegant Andalusian city in all its festive glory. From the jasmine and orange blossom scented Festival of Courtyards to the flamenco-fueled Cordoba Fair, there is truly never a dull moment. One of the most spectacular of all May's celebrations is the Crosses of May festival, where the streets come alive with wildly colored floats, and crosses made from all kinds of flowers. Like most Andalusian festivals, this one is also infused with plenty of lively music, delicious food, and local wine.
The mysterious origins
It's never been entirely agreed how this festival originated in Spain, but it seems likely that it would have come about through pagan springtime celebrations, and could even date back to Roman times. Religiously, it can be traced back to the search by Saint Helena, a Byzantine empress, for the cross on which Jesus died.
According to one popular legend, Emperor Constantine I was battling the barbarians along the Danube River, and his victory was thought to be impossible due to the immense size of the enemy army. Then one night, the emperor had a vision: a cross appeared in the sky along with the words "In hoc signo vincis" (With this sign, you shall be victorious). He had a cross made that morning and placed it in front of his army, which went on to an easy victory. Upon returning to the city and finding out the meaning of the cross, Constantine was baptized and he sent his mother, Saint Helena, to Jerusalem to find the True Cross.

The festival today
Taking place each year on May 3rd, the Crosses of May festival in Cordoba features countless crosses made from flowers, which are installed throughout the city streets and squares. The town council then judges the creations to choose the most impressive ones. The different neighborhood associations try their best to out-do each other by making the most beautiful and elaborate cross – some of them are true masterpieces! The crosses can be seen all day long, but the real festivities come with the setting sun. The nighttime atmosphere is joyous, with plenty of open air music and dancing, and traditional performances of Sevillanas. The neighborhood associations and local clubs also set up their own bars, serving traditional tapas and drinks to visitors.
Some of the most festive neighborhoods during this time include San Basilio, San Andrés, Santa Marina, San Agustín and of course the city center. As an extra bonus, this festival overlaps with the Courtyards of Cordoba festival, so you can take advantage and enjoy both celebrations!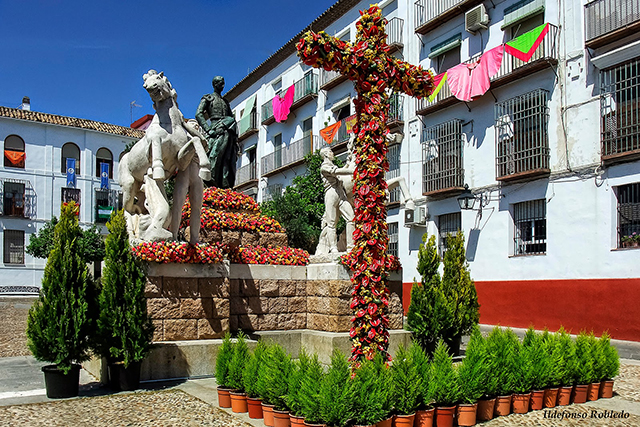 Cordoba on your May tour
With so much to do in the month of May, Corboda becomes a busy place! Get in touch to start planning your tour well in advance, and make the most of this special time of year in Cordoba and all around Andalusia.