Pass through a plaza in Barcelona or Tarragona, or any number of Catalan towns and villages during a local festival and you could be in for a breathtaking sight: local men, women and children standing on each other's shoulders up to ten tiers high.
The human tower or castell ("castle" in Catalan) is a mind-bogglingly brave tradition and a true feast for the eyes. Just watching the fearless castelleres (the castle-making groups that range from kids to spry seniors) scale up and down is a feat for the strong hearted.
Three centuries of acrobatics
The first human castle that's been documented appeared in 1712 in the town of Valls, near Tarragona, spreading to nearby towns throughout the 1800's. The sport really began to take hold throughout the entire Catalan region around 50 years ago and is going from strength to strength today, delighting locals and visitors alike.
In 2010, Castells were declared a UNESCO Masterpiece of the Oral and Intangible Heritage of Humanity. Today, there are 100 official castellers scattered around Catalonia.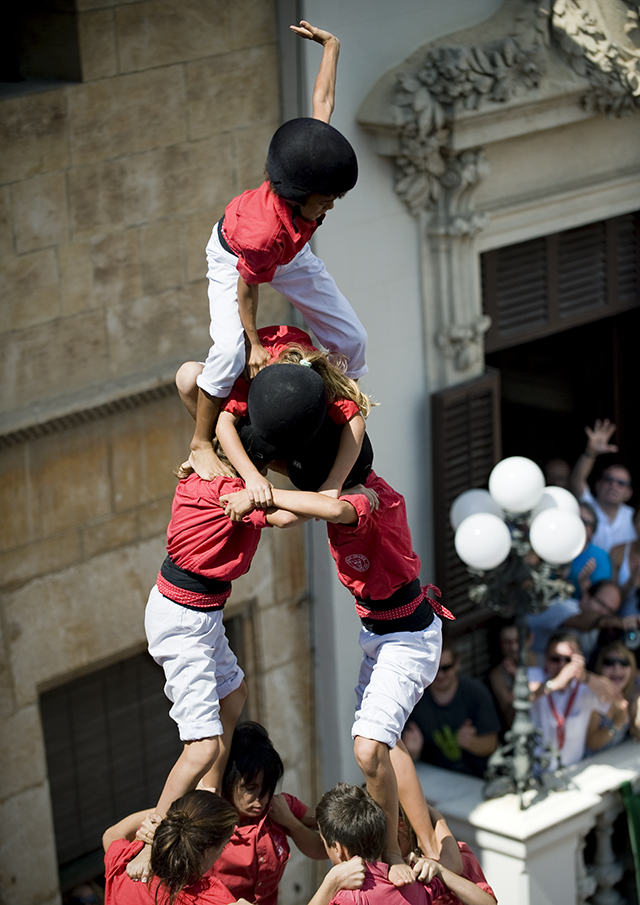 © Photos from ACT / Gemma Miralda
One smooth move
The goal and prestige of a castell lie in the castellers' ability to assemble and disassemble themselves in complete succession. The secret is in the structure: at the base, the pinya, the tower's core strength is typically made up of stocky men, who also act as a safety net.
The layers – typically six to ten – are built on top as the members of each tier (carefully) stand on each other's shoulders. The cherry on the cake is the enxaneta: a (helmet-wearing) child, who clambers up one side into the top spot, and raises one hand with four fingers, while traditional music plays.
The most perilous (and often the wobbliest, gasp-worthy part) is actually the deconstruction: the enxaneta climbs back down the other side of the tower and the supporting castellers slowly unpeel from top to bottom, a level at a time to raucous cheering and applause.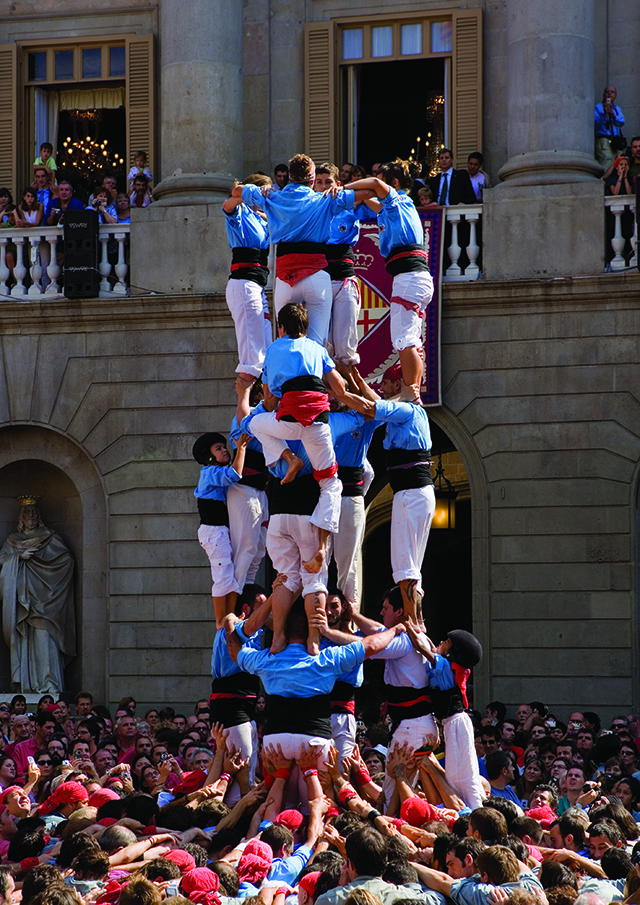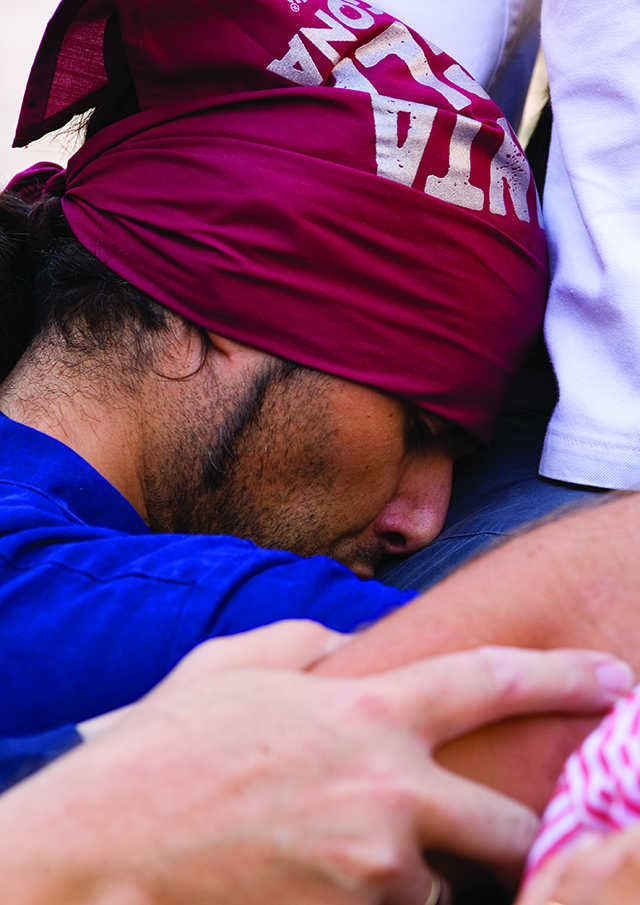 © Photos from ACT / Oriol Llauradó
Casteller-spotting
It's pretty hard to mistake Castellers, should you stumble across a group – or more likely several groups – as Castells are usually built as part of a competition among local teams.
Traditional Casteller costume consists of white trousers, a bandana and a shirt with the team's emblem. The most distinctive element is a tasseled black sash ("faixa"), which supports the lower back and works as a climbing foothold or handhold on the way up and down.
If you're bringing a group to Catalonia, Castells are an awe-inspiring traditional spectacle. From the Castellers' mojo to their motto  "Força, equilibri, valor i seny" (Strength, balance, courage and common sense), these valiant local groups inspire spectators of all ages. Just don't try this one at home, folks!