If there's one thing you can guarantee when taking a group to Spain's fifth largest city, it's that nobody will be bored. From eclectic monuments to stunning Mudejar architecture, awe-inspiring churches and cathedrals to fine food, festivals and round-the-clock fun, the only quandary when arriving in Zaragoza may be what to do first!
Kiss the pillar
The capital of the autonomous community of Aragon, Zaragoza (also known as Saragossa) is home the multi-domed Basilica de Nuestra Señora de Pilar, one of the most emblematic centers of Christian pilgrimage.
Visitors of all religions (including none) are captivated by the Church and its legendary pillar, supposedly laid there by Virgin Mary. Folks from all corners of the globe flock to kiss the pillar and ask for her protection, head up the tower for amazing views of the city and marvel at the impressive selection of Goya paintings inside the basilica.
Moorish glory 
Zaragoza's stunning 11th century Aljaferia Palace is a Moorish masterpiece.  Visitors can inhale living, breathing history as they take in its turrets and fortresses, and stroll around its ornate arches and gardens. Now home to the Aragonese parliament, the Palace has had quite a career, having served as a royal residence, military barracks and a working fort over the past nine centuries.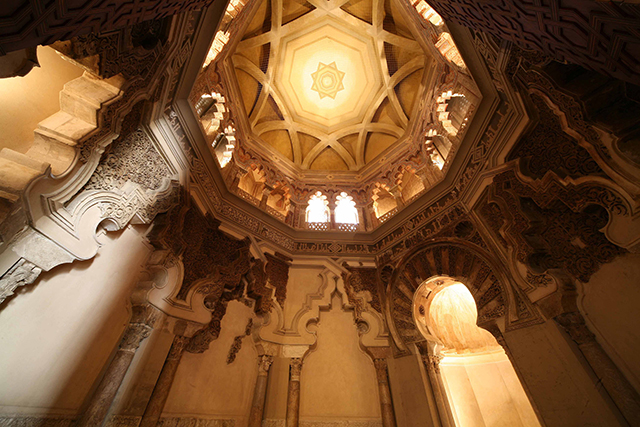 Photos from Zaragoza Turismo- Agustín Martinez
Feed your senses
Chocoholics can eat and drink to their hearts' content in Zaragoza. Legend has it that the monks in nearby villages first introduced chocolate to Spain!  No trip to the city is complete without sampling the delights of its traditional chocolatiers – or watching artisan chocolate makers showcase their craft (and savoring the results) in breathtaking settings like the courtyard of the Pablo Gargallo Museum, or the Monasteria de Piedra.
Savory-toothed visitors will also be spoilt for choice. From the Calle Mayor to the surrounding web of tiny winding streets and alleyways, Zaragoza is home to hundreds of tapas bars, offering mouthwatering morsels and fine wine to wash it down with.
Soak up the atmosphere
With its vibrant past and avant-garde present, day-trippers can muse over the city's scattered street art murals, or shop for souvenirs at the Anticuarios de la Plaza de San Bru. Nestled between the Arco del Deán and La Seo Cathedral, this food, craft, and antique market is a hotspot for those that want to take a piece of Zaragoza's heart home with them.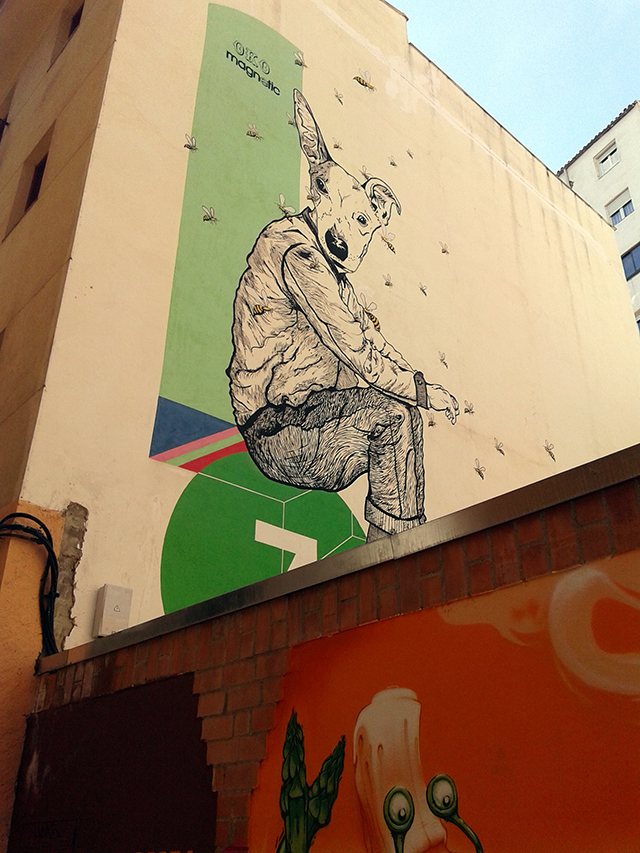 Photo from Zaragoza Turismo
Nocturnal travellers will find nights to remember in Zaragoza. The city's Old Town – El Casco Viejo – brims with bars, restaurants, nightclubs and live music venues, all within walking distance of each other. A dawn stroll along the River Ebro and among the Roman ruins completes the adventure.
If you're bringing your group to Spain, put a pin in Zaragoza. A tour of this quintessential, quirky Spanish city is guaranteed to be an unforgettable, unconventional and unique experience for visitors of all ages.