Going to Spain without trying jamón ibérico, is like going to the Maldives and not dipping your toes into the ocean. The subject of worldwide plates, gastronomy shows, souvenir wish lists and even films, Iberian cured ham rightly deserves a passport of its own. That being said, there's nothing like savoring it in its native land.
This little pig went to market…
They (rightly) say) that tasting a morsel of rich, woody, slightly sweet jamón ibérico is like biting right into the Spanish countryside. This isn't surprising, given that it comes from the cerdo ibérico, also known as the "pata negra', a black-hoofed pig that has roamed the peninsula for centuries.
Iberian ham and its pigs are a source of national pride and heritage. The fiercely protected jamón ibérico denomination of origin (DO) covers the vast "Dehesa" – a holm-oak carpeted grazing land in the west of Spain, which includes four regions: Salamanca and the town of Guijuelo, the province of Huelva (particularly the town of Jabugo), Extremadura and Valle de Los Pedroches.
Olives with legs
Iberian piglets are raised on cereals and acorns, till they reach 18 months old. Then, from October to January, when the acorns fall from the oaks, they trot out in the Dehesa to spend three months eating 6 to 7kg of acorns a day. Only two pigs can occupy a hectare of land, as they must each hit a 160kg weight target for their ham to earn the prestigious title jamón ibérico de bellota (the finest, free-range acorn-fed ham in the world)
The olive-like flavor of the acorns  – which comes from their oleic acid – can be tasted in the ham, which has earned the pigs, the nickname "olives with legs" The unique taste of jamón ibérico perfected in the curing stage – which can take up to four years.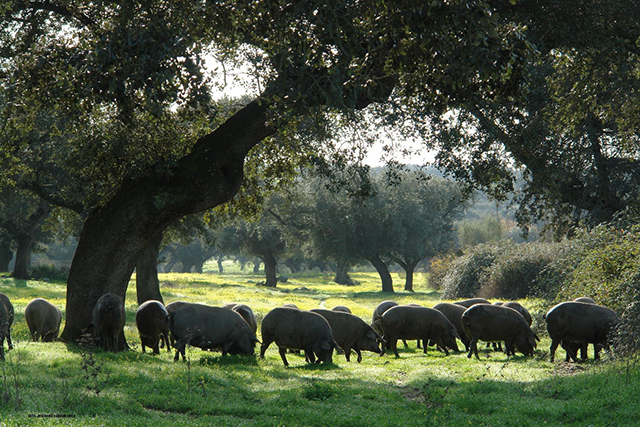 Savor the flavor
Arguably best place to try jamón ibérico is in its DO regions. Nevertheless, hanging ham legs are a familiar sight in bars, delis, and markets around Spain. You're also likely to spot the carving device, which looks rather like a medieval torture instrument and supports an entire leg, so that the ham can be carved off and served or eaten on the spot.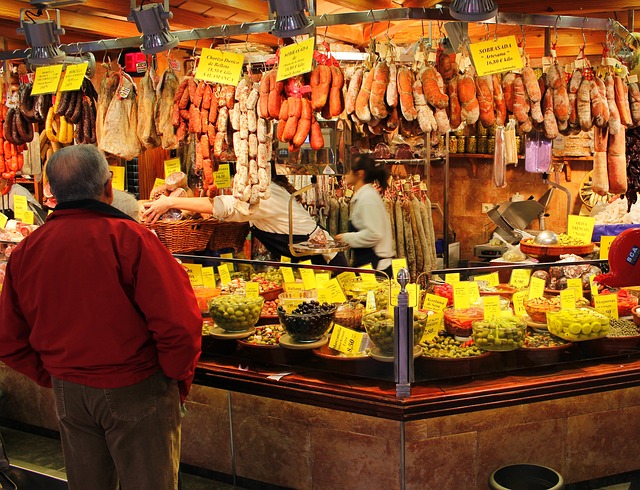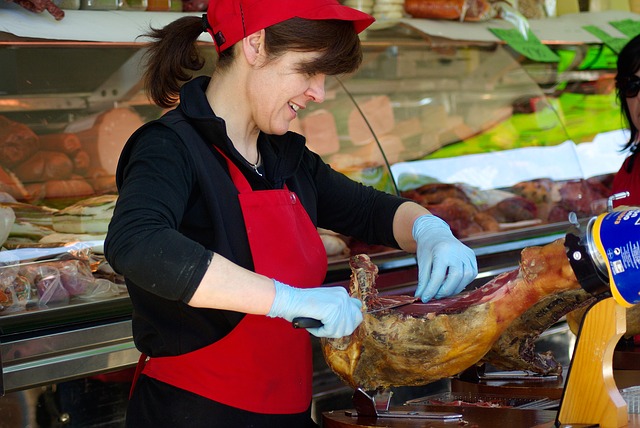 Jamón ibérico is often served as tapas, alone or accompanied with bread or with the quintessential "pan con tomate" – bread with olive oil, squishes tomato, garlic and salt. It pairs perfectly with wine or beer, and is enjoyed round the clock, even, and often for breakfast – it's divine with eggs!
Ham fans that simply can't get enough, can sample other fine Iberian meat products like cured sausages – lomo iberico (loin), chorizo ibérico and salchichon ibérico.
Help your group tuck into authentic, unrivalled jamón ibérico by letting us organize a gourmet tour to the jamón ibérico DO regions. They'll learn about the whole rearing process, and of course, taste the world's most heavenly ham!