Visitors to Spain often seek an endless summer, but mild autumn offers a completely different – and equally enchanting – experience. Fiery hues on rolling hills and dramatic mountains make a stark contrast to the blue seas that surround the land. Autumn in Spain beckons visitors (and locals) to dig out their boots and crunch through the leaves of magical forests. There are stunning autumn destinations all over the country, and here are some of the most recommendable.
Otzarreta, Gorbea Natural Park (the Basque country): Mossy trees become painted in bright ocher, red and yellow, enhanced by the sound of the trickling creeks that cross the forests. This Basque park offers an incredible variety of nature, taken from the pages of a fairytale. The beech trees of the park are a peculiar attraction, with branches growing upwards instead to the sides.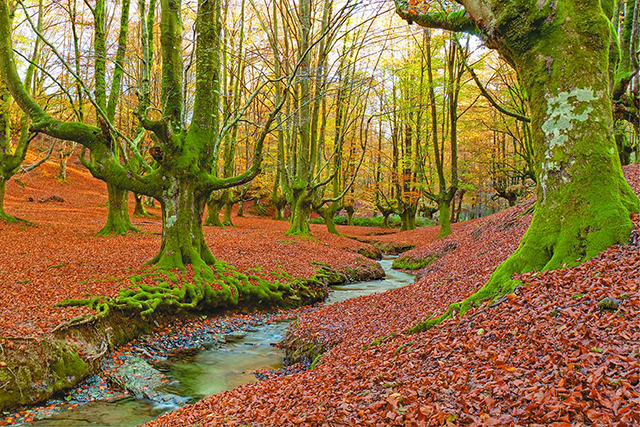 © Photo from www.euskadi-basquecountry.org
Fageda d'en Jordà (Catalonia): With the noise of crackling leaves underfoot, gold and crimson forests growing above a mantle of lava from the Croscat volcano. The beautiful forests, together with the picturesque medieval villages surrounding them, have been a source of inspiration for poets.
Sierra de Cazorla, Segura y Las Villas Nature Reserve (Andalusia): This Natural Park is the largest in Spain and the second largest in Europe. It is a thick forest, unique in southern Spain, with a stunning blend of blue Mediterranean sky, brightly colored trees, snow white mountain peaks, and a sea of ​​olive trees.
The Irati Forest (Navarra): The Irati Forest is one of the largest and best preserved in Europe. It is a natural paradise in an almost virgin state, with many routes suitable for all ages. This mountain environment leaves visitors breathless.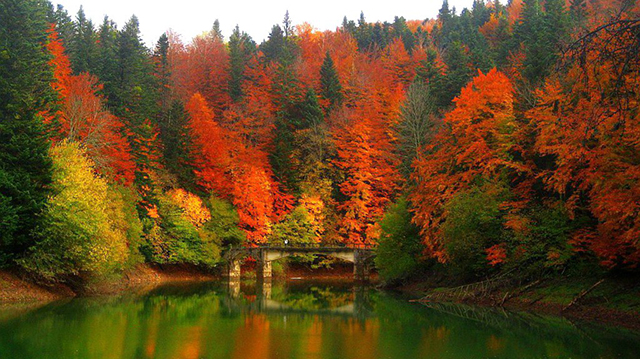 © Photo from www.diegoweb.net
Puerto de Honduras (Cáceres): In the north of Caceres, this mountain port connects two large valleys, the Ambroz and Jerte. Visitors can observe and enjoy the peaks of the Massif of Gredos, especially in their autumn bloom.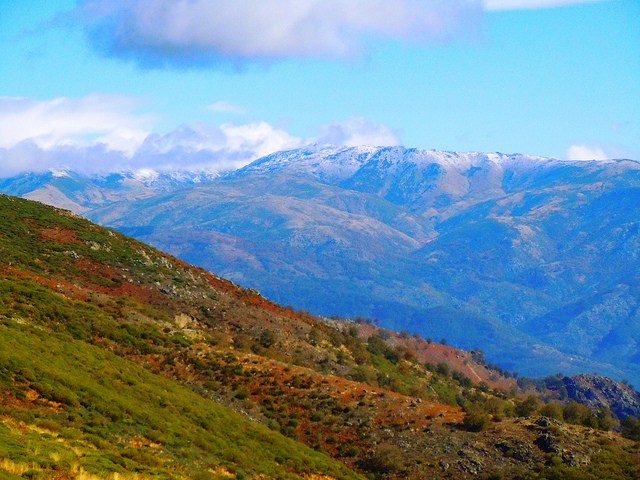 © Photo from www.vicentecamarasa.wordpress.com
O Courel Mountains (Galicia): Wolves, roe deer, foxes and wild boars await on routes through this beautiful Galician forest. Between the provinces of Lugo and Ourense, visitors admire a sea of oak and chestnut trees covered in moss. There are also medieval stone churches, villages and hermitages, creating an altogether magical experience.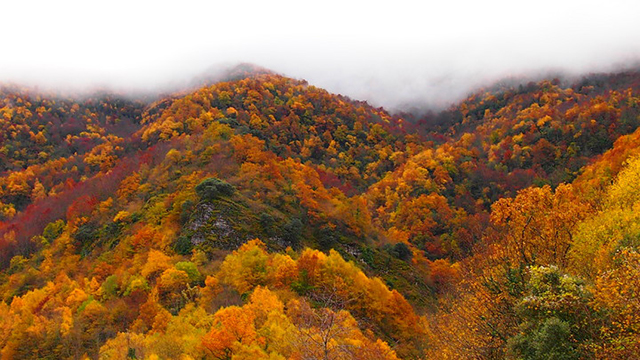 La Laguna Negra Nature Park (Castile and León): Located in the Picos de Urbión, this park is well worth visiting all year, though there is no doubt that autumn is a special time. Among the streams and high mountain meadows characteristic of this glacial landscape, we find lakes, such as the Black Lake, Long Lake, and Frost Lake. The mist rising among autumn leaves makes for a truly enchanted experience.
This is just a sample of Spain's autumnal treasures – don't miss out! Wherever your group is travelling this season, get in touch to plan a most memorable journey!