Andorra's snow-capped mountains make it a natural destination for winter sport enthusiasts, but summers are starting to liven up as nature-lovers catch on to the endless activities to enjoy during the warmer months. As an up-and-coming summer destination, Andorra is a perfect escape from the summer crowds and heat found around much of Spain.
Tiny country, small cities, big mountains
Nestled into the Pyrenees Mountains at the border between France and Spain, the entire population of Andorra is just over 70,000. Visitors don't have to wander far into Andorra's spectacular scenery before all signs of civilization seem to disappear completely. And herein lies the richness of Andorra.
The country does not try to match its neighbors in its cultural offerings or sophistication, but this does not mean that Andorra lacks in charm. The largest city, Andorra la Vella, is home to just over 22,000 people. It has been Andorra's principal city since 1278, and is characterized by old stone streets and houses. The Romanesque-style Saint Stephen Church, set against a dramatic mountainous backdrop, is straight off the cover of a guidebook.
Encamp is another picturesque village and a good base for exploring the surrounding country. Its downtown is one of the prettiest, with the Valira d'Orient River running through it, and lovely old buildings now serving as shops, cafés, and restaurants. It's almost enough to forget that the must-see parts of Andorra lie beyond any city limits.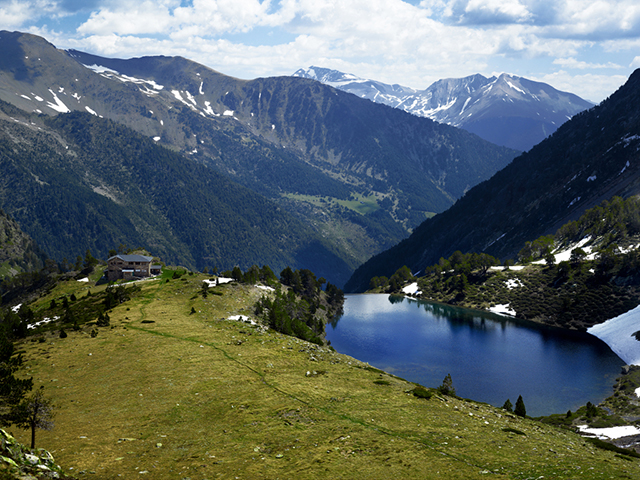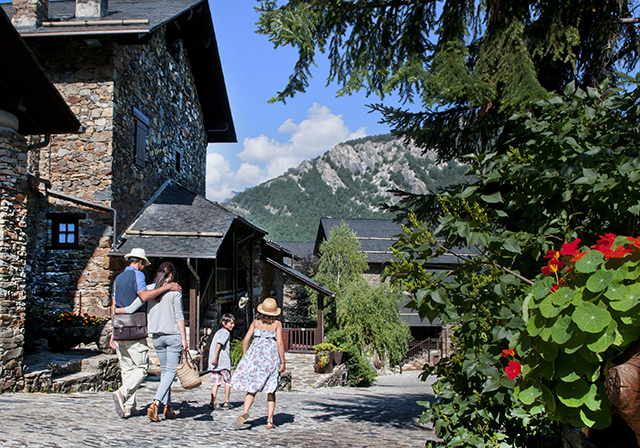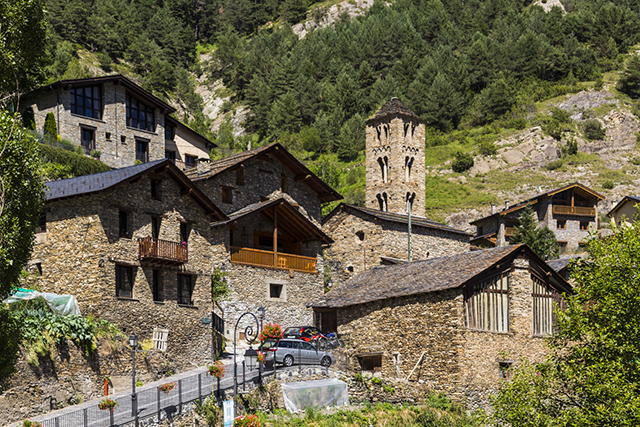 Photos from Andorra Tourism
Andorra highlights
As one would expect, there are countless options for trekking, mountain biking, archery, horse riding, rafting, and much more. One highlight is trekking the Camí de les Pardines, a stunning and easy to follow route from Encamp to pristine Engolasters Lake. The route includes a botanical garden, some ancient bridges, and a small waterfall. After taking in spectacular views of the Llevant, Torralleda and Pala Alta mountains, the route finishes at the lake where hungry trekkers will appreciate two high quality restaurants.
Which is another point worth mentioning – even the visitors to Andorra who are not nature lovers will enjoy the delicious cuisine, and also the offering of world-class spas. Among them is the Caldea Thermal Spa, which is Europe's largest. Set high in the mountains, the spa boasts 20,000 square feet of indoor and outdoor lagoons, saunas, jacuzzis, Indo-Roman baths, cascades, bubble beds and warm marble slates.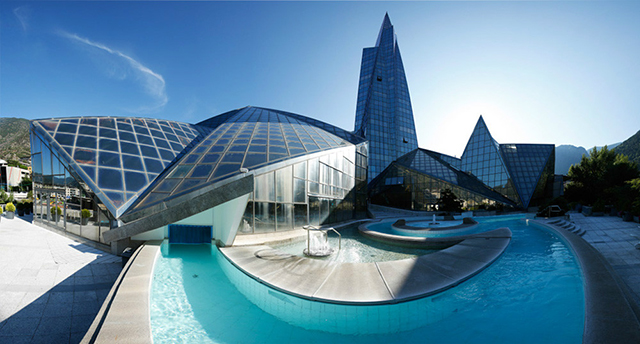 Photo from Caldea Spa
A journey to Andorra on your Spanish tour
Getting away to Andorra for one day or several can be a great option for your tour group – especially if they are nature enthusiasts. Taken all together, the scenery and activities, food, villages, and spas make for a very special experience. Ask us about arranging an Andorra getaway that will suit your groups needs and tastes!