The Picos de Europa national park is located in the Cantabrian Mountains, between the provinces of Asturias and Cantabria. Within this stunning region of "Green Spain", the Picos de Europa park offers landscapes of indescribable beauty: rocky peaks, deep gorges, rolling green valleys, crystalline glacial lakes, lush forests…The best way to take it all in is on foot, and luckily, there are routes and paths for all levels of hiking – and they are all equally breathtaking!
Spain's first national park
The Picos de Europa was the first national park to be declared in Spain, and it's clear why: its natural diversity and outstanding scenery make it a place unlike any other. Its history goes back to 1918, when don Pedro Pidal, Marquis of Villaviciosa, created the Montaña de Covadonga National Park, which was renamed Picos de Europa National Park on 30 May 1995. This natural area was then awarded the UNESCO Biosphere Reserve designation in 2002.
Today, there is a vast network of clearly signposted paths to guide visitors to the most emblematic sights of the park. There are hikes ranging from easy to difficult, with the highest peak in the mountains reaching over 2600 meters and over 200 spots that are over 2,000 meters above sea level. If the upward hike sounds a bit intimidating, the Fuente Dé cable car is a good option – it will take care of the most challenging legwork, taking passengers to 1,800 meters above sea level.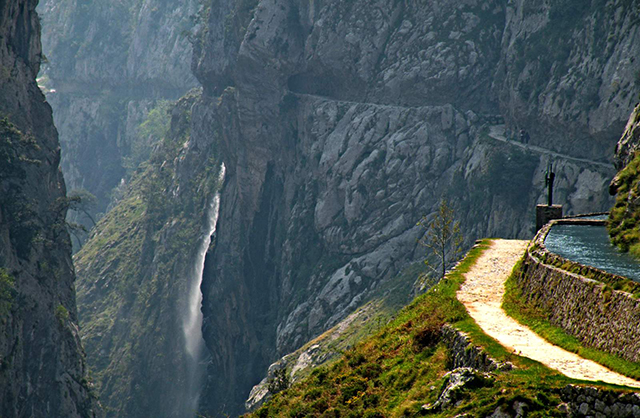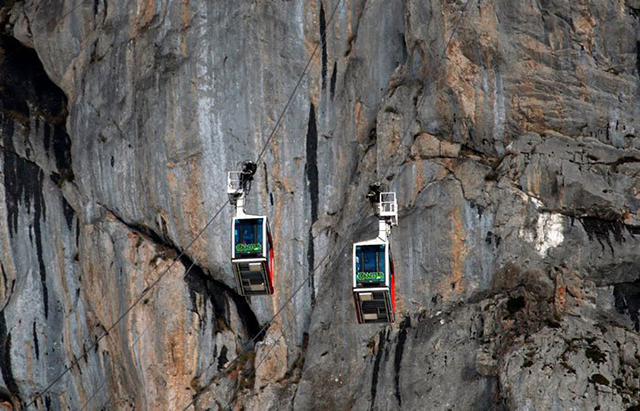 When and where to go
Given its altitude, the Picos de Europa park gets quite cold in the winter, and year-round snow fields are not uncommon. This makes spring and autumn particularly good times to hike: the temperatures are pleasant, there are more hours of daylight, and the seasons have their own special beauty. These seasons also have the most to offer in birdwatching and wildflowers, which just adds to the already abundant beauty.
As for the route, visitors are spoiled for choice: the park has over 30 signposted hikes. The best-known routes are usually simple and easy to follow, and take between three and six hours. Some of the most beautiful itineraries are the Cares Route, which is mostly flat and has lots of places to stop for breaks and take in the spectacular views; and the Covadonga Lakes Route, which starts and the Sanctuary of Covadonga and features a stunning viewpoint the Mirador de la Reina. Be prepared to see plenty of horses, cows and sheep grazing in verdant rolling meadows, against a backdrop of snowcapped mountains. An iconic scene for the Picos de Europa, that is not to be missed. Of course, all of the routes are well worth exploring, and each one offers a unique experience of the park.
For long hikes lasting several days or longer, there are incredibly picturesque villages within the Picos de Europa that can offer charming options for accommodation, like Cangas de Onis, Potes, Arenas de Cabrales, and Ribadesella, to name just a few. Of course, these are also great places to sample local cuisine after working up a healthy appetite!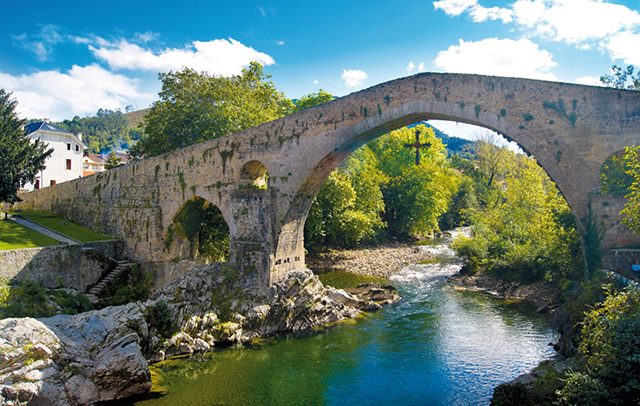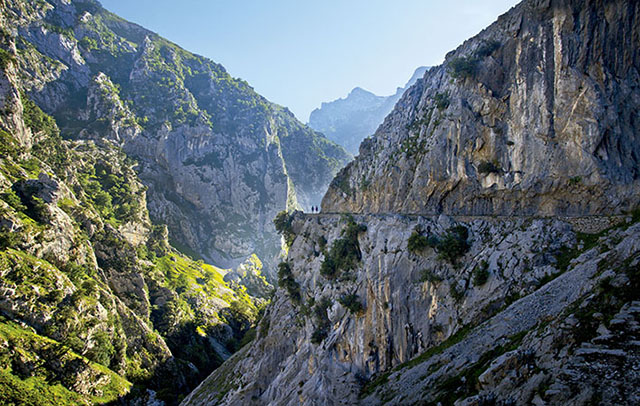 The Picos de Europa on your tour
The Picos de Europa will be a top highlight of your tour of northern Spain. In fact, the park has so much to offer, it could merit a complete tour on their own! We can help you get the most from your journey in the Picos de Europa – contact us today!