When travelling through Spain, you'll be delighted by the endless variety within the cuisine. The country makes creative use of its fresh seafood, wild game and livestock, and a rainbow of fresh produce. If only there were a dish that could combine all of these wonderful flavors…Wait, there is!
Paella: a bite of Valencian history
Paella, recognizable by its appetizing golden color (and irresistible aroma) is the quintessential Spanish rice dish. It originates from the Valencian region of the Mediterranean coast, a claim to fame that is proudly accepted as one of Valencia's identifying symbols.
While paella in its modern form is a creation of the mid-19th century, it actually has ancient roots – the early inhabitants of the region prepared it using wild rice from the Ebro River Delta, which is still widely available today.
So many to choose from
Varieties of paella are as numerous and diverse as the ingredients found in Spain, but the most traditional is, not surprisingly, Valencian paella. In this dish, you'll find sliced green beans, tender chicken and rabbit, white beans and often times snails, seasoned with saffron and rosemary. It's a real mouthful – and real delicious!
Other varieties are made with just seafood, or a mix of meat and seafood. Vegetarians will also find plenty of paellas that satisfy their needs and their taste buds. Most paellas use a special kind of short grain rice – it's the best for soaking up all the different flavors – and ALL of them use high quality Spanish olive oil.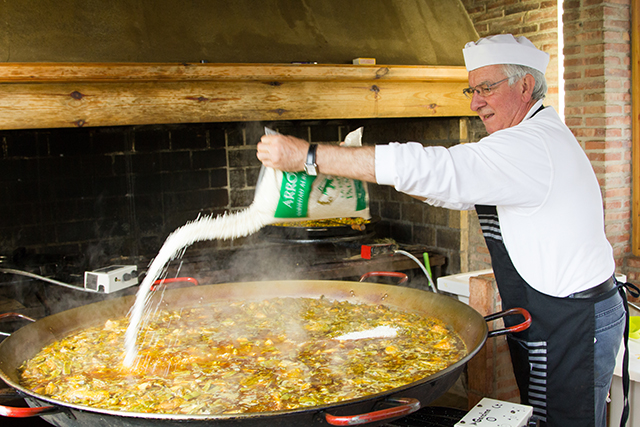 More fun to cook or eat?
If you have the opportunity (in Valencia there are many), go to a traditional paella cookout. That's right, cookout – paella is meant to be cooked over an open fire. And it's a dish to be enjoyed together. Paella is cooked in a special flat pan that can measure up to several feet in diameter!
Cooking paella is often at the center of neighborhood festivals. Along with music and drink, at the end of the day everyone can enjoy a plate of this comforting national dish.
Mmm, make your own!
Besides making a perfect lunch or dinner (with a glass of fruity sangria, of course) paella also makes a perfect souvenir. You'll see plenty of paella pans asking to be taken home with you, along with bags of the special rice and seasonings – all you have to do is add the water and meat, seafood or veggies of your choice.
For those who want to try their hand at making this dish from scratch, here is a great traditional Valencian recipe: Recipe- Paella Valenciana