In Catalonia and other regions of Spain, fire plays a powerful symbolic role in many traditional celebrations. Nowhere is this more evident than in a correfoc, translated literally (and very appropriately) as "fire run". Not even the wildest imagination could conjure up a vision that matches the reality: an infernal procession of fire-breathing monsters and dragons, led by horned devils chasing spectators with sticks emitting very real sparks and fire. It may sound apocalyptic, but the atmosphere is intensely festive – just be sure to dress in flame resistant attire!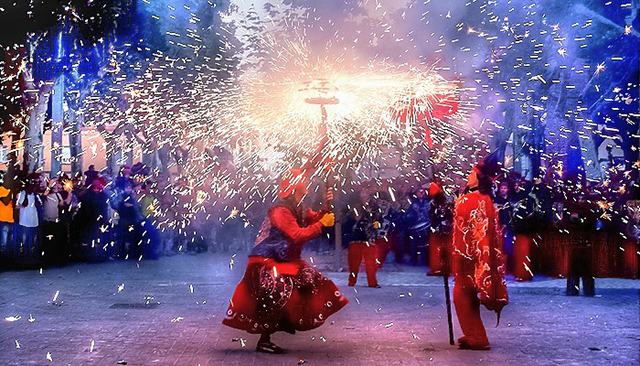 A thrilling Catalan tradition
The correfoc of today has evolved over centuries. It became popular in the 14th century as a part of Corpus Christi processions – the correfoc served the practical purpose of leading the procession and using small explosions to encourage spectators to make way. Since then, it has become the weird and wonderful fire parade we witness today. Correfoc take place at major festivals all over Catalonia, but the biggest and most impressive is in Barcelona during the festival of the city's patron saint, La Merce.
Here, the correfoc begins after dark at the impressive Cathedral in the city center, with the spectacular Porta de l'Infern (Hell's Gate). The Beast calls the diables (devils) out of Hell, and the procession makes its way down through the city.  The diables, horned and dressed in red cloaks, chase spectators with pitchforks spraying out sparks. Some spectators stand back to avoid getting burned, but others step up to challenge evil and run among the diables (wearing thick, flame resistant clothing and even protective eyewear – no joke!).
The diables are accompanied in the processions by the bestiari, which are dragons or other mythological creatures that march through the city on the feet of the people hidden inside them. They add fountains of fire to the procession, breathing flames from their mouths and noses. The bestiari are painstakingly constructed by local teams, who compete to create the finest and most creative monsters – truly a sight to behold and one that your group will never forget.
To add even more to this incredible ambience, drum troupes pound away from beginning to end. The whole thing finishes at the port of Barcelona, where the diables are cast back to Hell.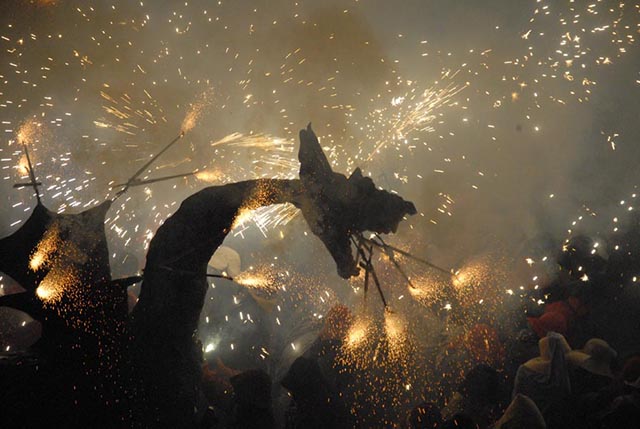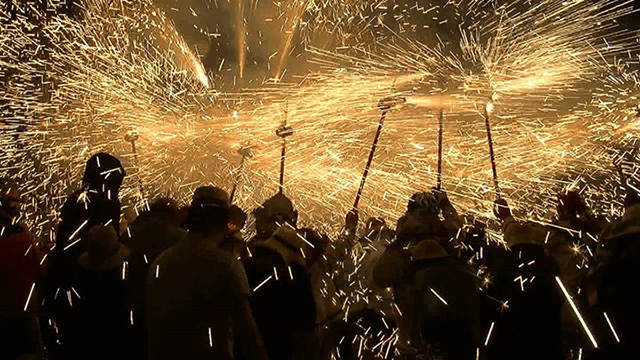 The Correfoc of La Merce
If your group is interested in seeing a correfoc, there is no better time or place than in Barcelona during the Festival of La Merce, held each year in late September. This is not only the most spectacular correfoc of all, it is also Barcelona's most important festival and a chance to witness the great cultural events and activities. From the correfoc to human castles to performances by popular local and international artists, La Merce has much to offer. Contact us today to plan your group's travels in Barcelona!