They say you know that Spring has sprung in southern Spain when Seville's Feria de Abril (April Fair) kicks off. This vibrant, traditional and highly colorful weeklong Spanish shindig draws visitors from near and far to eat, drink, dance and make merry each year. If you're in town, you won't be able to miss the giant fairground, the "Real de la Feria", a vast site located opposite the Parque de María Luisa between the Los Remedios and Tablada neighborhoods.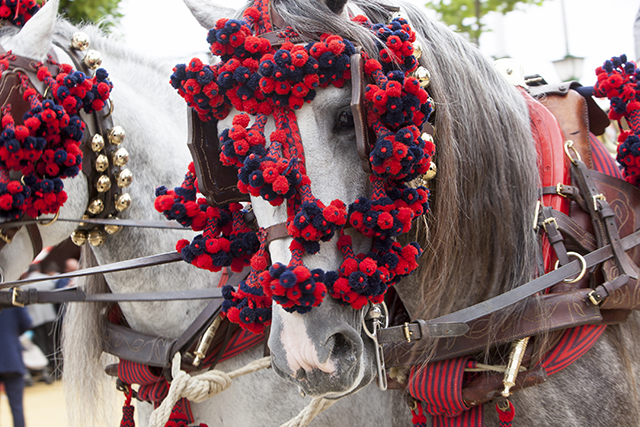 Boom and Bloom
Night owls will certainly be in their element at the Feria de Abril, which starts at midnight on the Monday, two weeks after Easter. Known as  'La Noche del Pescaíto" (Fish Night), the first evening of festivities typically starts with a fish supper.
Once that's gone down, folks head to La Portada, a spectacular structure at the entrance to the Feria. The Mayor of Seville turns on thousands of lights as the clock strikes 12, the sherry flows and everyone who's anyone heads to the nearest "caseta" to get grooving.
Cas-a-what-a?
At the heart of the April fair, are countless casetas – over a thousand tent structures that turn the festival site into a pop-up city. They date back to the 1840's when the Feria was a humble cattle fair. A few casetas were put up to help dignitaries socialize… and the rest is history!
Today, more than 1,000 casetas line the showground, each providing tapas, drinks and live music from the early afternoon to the early hours of the morning. Spontaneous flamenco shows and impromptu singing often last until the larks are up and the lost drop's been drunk.
Each caseta is privately owned, and entrance is by invitation only – so making friends with a well-connected local is a good plan!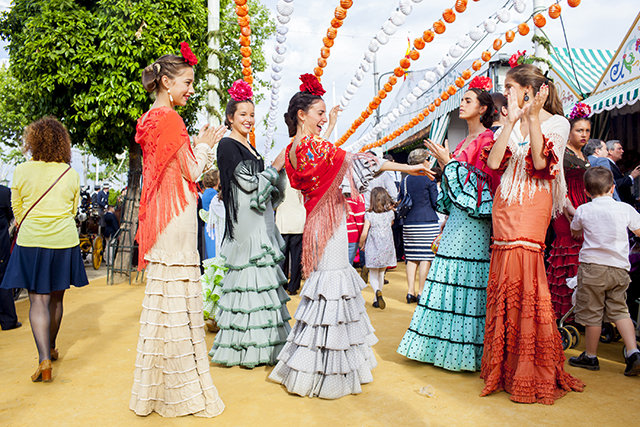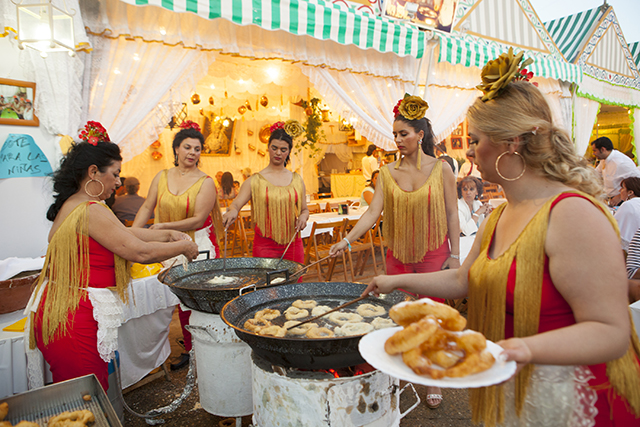 Feel the flamenco
The Feria's first official day is the Tuesday. Locals and visitors flock to the Real de la Feria, and to the enormous vast fairground next to it. Besides the rides and flamboyant circus show, there are horseback parades, where Sevillan women get glammed up in all their flamenco finery and flutter their fans, and men don traditional suits, known as "el traje corte"
The week proceeds with much of the same, with a stunning midday horseback ride known as the "Paseo de Caballos', carrying traditionally-attired Sevillanos and Sevillanas to the Real Maestranza bullring. Each evening of the April Fair, bullfights are programmed at the historical Plaza de Toros… followed by more festivities, finery and fine sherry!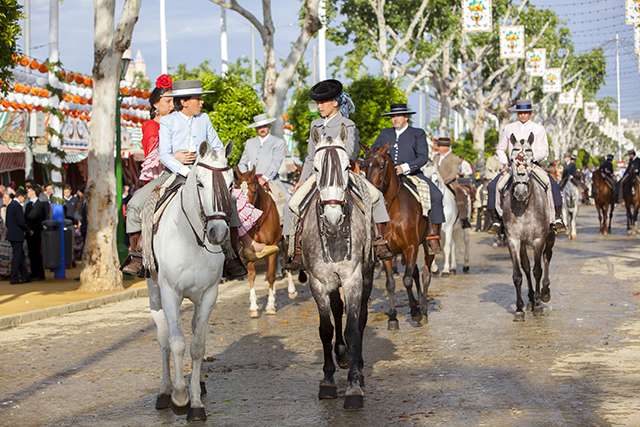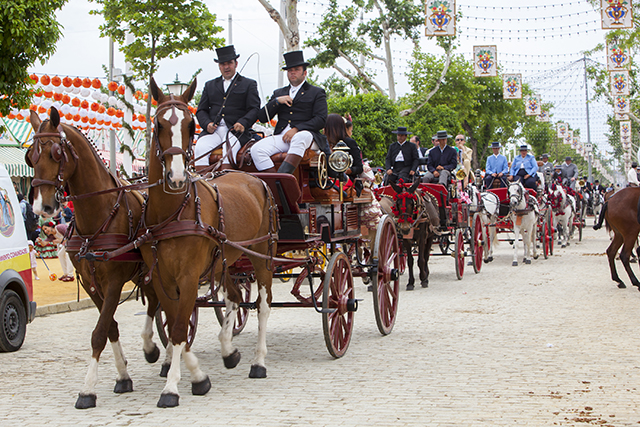 Get in on the action early
The 2017 Feria de Abril will actually take place from May 2-7, as Easter is late next year. But the early bird gets the best deals. Book with us to show your group southern Spain's most spectacular, authentic Spring break!
 Photos from Turismo Andaluz