Sherry, Horses, Flamenco and Tapas: Feria del Caballo
The Jerez Horse Fair, (Feria del Caballo) is one of three major traditional festivals held in Andalucia, in Southern Spain.  This year's festival takes place from 13 – 20 May with events kicking off at 10pm on the Saturday evening.
For a whole week, the streets of Jerez are overtaken over by parades of beautiful Andalusian horses, colorful displays of flamenco and hundreds of "casitas" (little fairground tents) where you can sample the local specialty, sherry or try some of the local tapas. Nightlife is fueled by sherry and tapas, which march to a flamenco beat with parties lasting into the early hours.
The Feria del Caballo dates back over 500 years and has its origins in gypsy culture, where the local "gitanos" would come to Jerez to earn money by entertaining crowds with their performing horses. Today, the Feria attracts thousands of visitors from all over the world with its rich spectrum of events.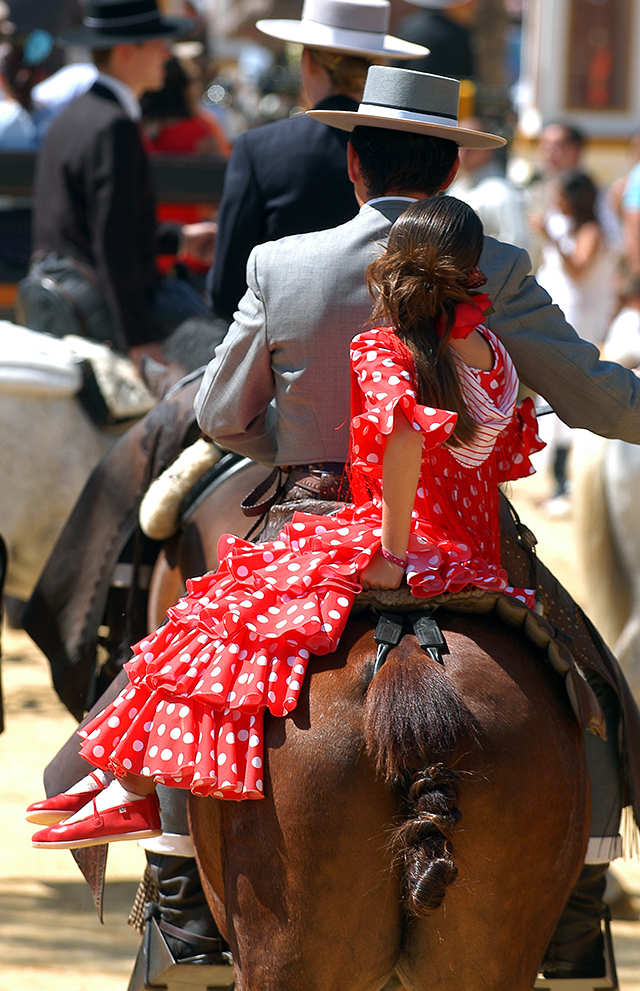 Horseplay and Heavenly Cuisine
Covering 52,000 square meters, The Gonzalez Hontoria Park is the main festival hotspot – superb displays of horsemanship in all its forms take center stage. Visitors can witness "doma vaquero" and "doma classica" – cowboy and classical dressage, riding competitions, polo, and fabulous displays of carriage driving.  At night, the casitas around the fairground glisten with hundreds of little lights and Andalusian style bunting.
Wandering through these little fairground tents, visitors can sample different varieties of sherry or wine. Locals will be drinking fino, but you might also see many of them mixing it with lemonade in what they know as a 'rebujito'. Gastronomic options range from tapas, such as tortilla, meatballs, Iberian pork, and serranitos (hot pork and Serrano ham rolls) to more sophisticated dishes such as black rice with baby squid and prawns.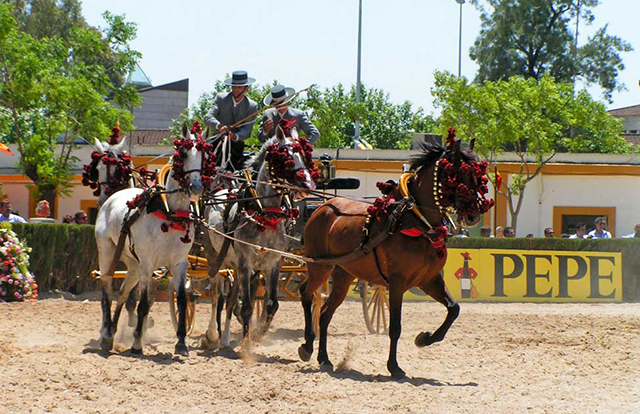 Equestrian Art at its Finest
Visitors can also gallop to the Royal Andalusian School of Equestrian Art located in the historic nineteenth century Palacio de las Cadenas, with its delightfully cool gardens.
The spellbinding "Como Bailan Los Caballos Andaluces" (How Andalusian horses dance) show, reveals skilled riders leading their horses through incredible displays of dressage (best described as equestrian ballet), carriage driving and other awe-inspiring horsemanship showcases.
If your group has set its sights on Jerez, be sure to get in touch, and we'll help you arrange an unforgettable tour of the Feria and more!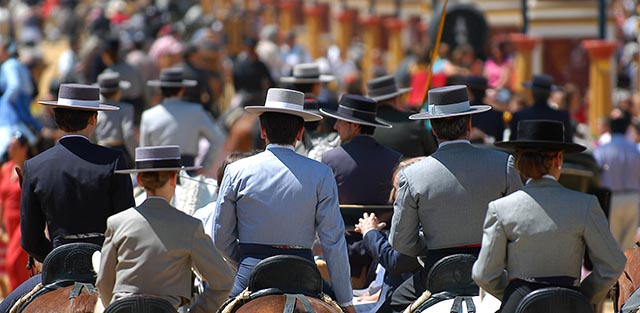 Photos from Turismo Jerez